To Vatican and the House of Frida Kahlo: 9 Virtual Tours of the World's Museums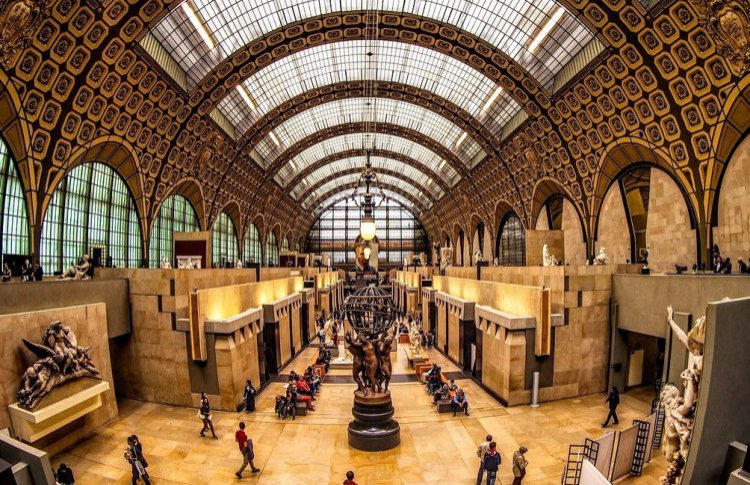 In the face of the raging coronavirus pandemic many museums have announced the temporary closure of their exhibitions – from Louvre and MoMA to the Garage Museum of Contemporary Art in Moscow. Oddly enough, a two-week quarantine can be a great opportunity to immerse yourself into the art — with the help of modern technologies. Time Out has picked out 9 most interesting ways to visit world museums without leaving your home.
Visit any museum with Google
Visit any museum with Google
The main salvation for art lovers under movement restrictions is the Google Arts & Culture online platform where they can find the collections of more than 500 museums around the world. In order not to get lost in the diversity, we recommend to think strategically: for example, focus on the museums of the country that you had to postpone your trip to or choose your favorite period or movement. If you look for classicism, pay a visit to the Uffizi Gallery which has been closed for quarantine. Impressionism and post-impressionism lovers can explore the Musée d'Orsay and the Van Gogh Museum. As for modern art, it makes sense to attend virtual exhibitions of MoMA, Tate Modern and the Solomon R. Guggenheim Museum. While browsing the contents, we recommend you to watch the lectures of Irina Kulik which have already become legendary. She has been dissecting the legacy of Duchamp, Rothko, Turrell and many others since 2013.
Vatican online: Sistine Chapel and Raphael
Vatican online: Sistine Chapel and Raphael
Some Museums provide their own virtual tours and exhibitions. Vatican which turned out to be in the European epicenter of coronavirus outbreak is among them. Its website shows almost all key tourist spots. You can step into the shoes of Jude Law in "The Young Pope" admiring Michelangelo's frescoes on the Sistine Chapel ceiling, walking around the Raphael Rooms or contemplating the Apollo Belvedere in the Pio Clementino Museum.
Emu Feather Skirt and other artifacts of the British Museum
Emu Feather Skirt and other artifacts of the British Museum
The British Museum came up with one of the best virtual exhibitions of the museum collection. It is a timeline in the form of a running track going through the ages. Dots of different color depict artifacts from various continents: from an African eagle-shaped coffin to an Australian skirt made of emu feathers. Click on the item you like and you will find a description and an audio recording by museum curators. You can also sort exhibits by various categories: art and design, life and death, and so on.
A tour
of
Frida Kahlo's
Blue House
A tour of Frida Kahlo's Blue House
Not everyone has an opportunity to walk around the house of Frida Kahlo, since it is a long way to Mexico, even without current obstacles posed by coronavirus outbreak. This is where the artist was born, lived with her husband Diego Rivera, had an affair with Trotsky and spent her last days. Fortunately, the Museum offers a digital tour. Wandering around the rooms, you will find some of Kahlo's works, pretty much unchanged interiors, her album, paint cans, as well as a death mask and a frog-shaped funeral urn that contains her ashes. Complete your online visit with a walk through the Mexican garden planted with palms and cactuses.
Metropolitan Museum of Art: life before quarantine
Metropolitan Museum of Art: life before quarantine
The Metropolitan Museum of Art, from which the mass closure of New York Museums broke out, offers a panoramic tour in the form of a set of YouTube videos. Just like maps, they can be rotated to any degree you like. Videos will get you acquainted with the interiors of different Museum branches and their pre-quarantine life. The project does not show the collection itself, but some hand-picked exhibits can be found here: from a South American two-headed figure which is more than 4,000 years old to a self-portrait of Andy Warhol and original Dior dresses from the 1950s. On the same page the Museum offers an extensive collection of art criticism essays.
Egyptian collection of the Louvre Museum
Egyptian collection of the Louvre Museum
A virtual tour of the Louvre will not take you to the Gioconda or the Venus de Milo — the Museum does not offer any panoramic tours of its collections. But history lovers have something to see. The Museum has digitized its medieval floors and an extensive collection of Egyptian antiquities which they began to form back in 1826. Passing a series of sphinxes, statues and objects of ancient Egyptian life, you can reach the pearl of the collection — funerary sarcophagi.
Nudes
from the Prado Museum
Nudes from the Prado Museum
Spain takes a sad second place after Italy in the list of European countries affected by coronavirus. The Prado Museum which closed its doors under current circumstances turned out to be one of the most creative art venues in the world. Its experts began to offer virtual tours via Instagram live streams. Unfortunately, art critics speak only Spanish, but the Museum website offers a variety of materials in English. For example, there is a selection of nudes which includes works by Bosch, Titian, Dürer, Goya and other classics. You can study all the reproductions in exquisite detail and find detailed descriptions by scrolling down. Art critics and other art professionals can find a list of reference used by the Museum staff under each work.
A new Rembrandt exhibition of the Thyssen-Bornemisza National Museum
A new Rembrandt exhibition of the Thyssen-Bornemisza National Museum
As a rule, there is an online version of permanent museum collections only, and you have to pay for temporary exhibitions. But under current quarantine conditions, the Thyssen-Bornemisza National Museum came up with a decision to make an exception and created a virtual tour of the new exhibition called "Rembrandt and Amsterdam Portraiture 1590-1670". It includes 39 portraits by Rembrandt himself and several dozen works by his contemporaries. In addition to the panoramic virtual tour, the Museum published a detailed video tour with the chief curator of the exhibition, Norbert E. Middelkoop.
Jeff Koons and others reflect on Andy Warhol at the Whitney Museum of American Art
Jeff Koons and others reflect on Andy Warhol at the Whitney Museum of American Art
If even a 360° tour can bore you, and you expect unique information from an online museum rather than sophisticated technologies, visit the Whitney Museum. Its website offers a whole series of exhibitions with audio guides recorded by the world's leading experts and art celebrities. For example, artists Peter Halley and Jeff Koons comment on Andy Warhol's art while Koons' kitsch is analyzed by the editor of Artforum, the leading art magazine, and by professor of the New York University School of Law.